Getting Started with Python
To get started with python, we need to download python from the official website. Python is a cross-platform language meaning it can run on Windows, Linux and Mac OS.
How to download Python?
You can visit https://www.python.org/downloads to download the latest version which is 3.7.2 as of today's date.

For Windows and MAC OS users, you can get the list of downloadable files as below:-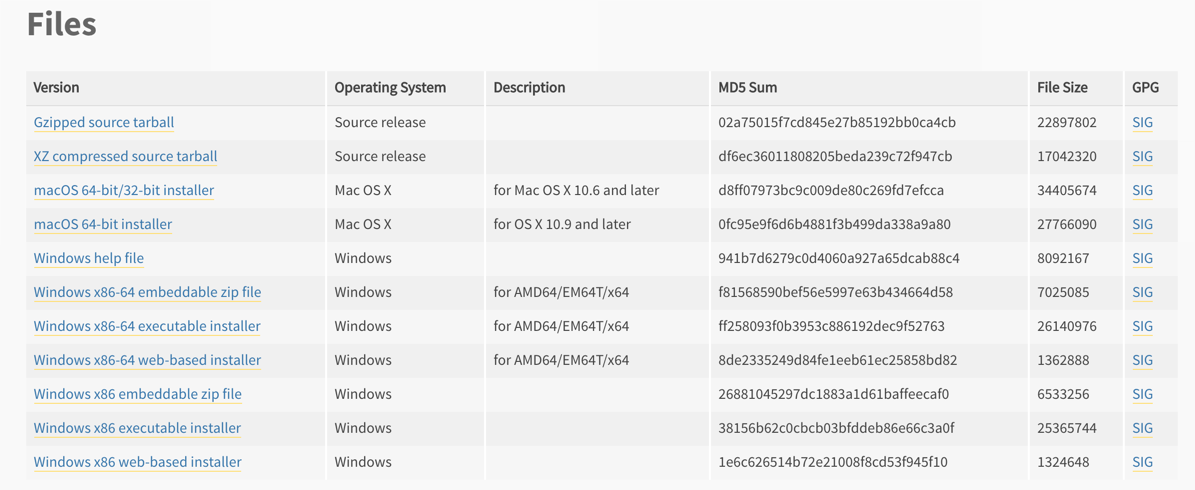 For Linux users,
If you are using Ubuntu 16.10 or newer, then you can easily install Python 3.6 with the following commands:
sudo apt-get update
sudo apt-get install python3.6
If you're using another version of Ubuntu (e.g. the latest LTS release), we recommend using the deadsnakes PPA to install Python 3.6:
sudo apt-get install software-properties-common
sudo add-apt-repository ppa:deadsnakes/ppa
sudo apt-get update
sudo apt-get install python3.6
After installing Python, go to terminal and check py entering python for default python or you can use python3 for python 3 if you have 2 separate installations.
python --version
OR
python3 --version
What are the various ways to work with Python?
So to work with Python, we have two modes
Interactive mode
Typing python in the command line will start the interpreter in immediate mode. Here, we can type Python directly and press enter to get the output.
Scripting mode
The second way of working with Python is by creating a file with the extension ".py". Once you create the file, you can then execute the file by typing in python <filename> in the terminal.
What are the best Python IDEs and Code Editors?
To ease working with Python programming, you can use different code editors available. An IDE (Integrated Development Environment) allows you to write code effectively as well as provide you with code completion so that you do not have to remember everything .Following are some of the code editors and IDE:-
Once you choose the IDE as per your ease of use, we can get started with the Python programming tutorial.
You can check out Hello World example to get started.
SHARE Getting Started with Python